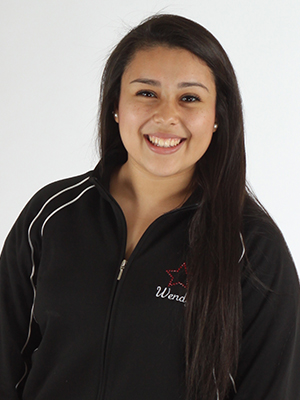 Wendy Chicas,
Choreographer/Instructor
Wendy has been dancing for over 12 years and teaching at Chris Collin's Dance Studio (CCDS) for the past three years. Wendy started dancing at CCDS at the age of five and was selected to join the performing Dance Company at age seven.
Wendy competed in all forms of dance for CCDS, and her favorite subject was Lyrical. Through the years she received many awards for solos, duets and group dances at national and regional dance competitions. She received awards such as "Sassy Senorita" and "Best Technique". Wendy also received awards for "Outstanding potential", "The Dedication Award", and the prestigious Ruth and Bill Collins scholarship, which is given to a select few dancers a year that exemplify overall excellence and commitment to dance.
Wendy is from the Washington DC area and is currently working towards her communications degree. Wendy is excited to continue her love of dance at CCDS.