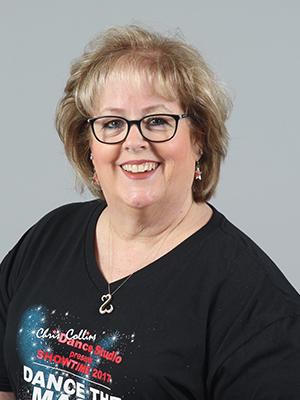 Vickie Collins,
Office Staff
Miss Vickie has been married to Mr. Chris for over fifteen years. She has been with the studio in one capacity or another for 25 years. Her children grew up dancing at Chris Collins Dance Studio capturing many title awards. She is now proud to watch her grandchildren grow up in the Chris Collins Dance Studio family. Miss Vickie is the person who makes the studio feel like a second home to our students. In fact, it was she who designed our studio and made it so inviting.
In addition to working with parents and students in the office, she also takes care of dancewear, costume measurements, costume orders, and embellishes costumes. Miss Vickie dedicates so much more behind the scenes to make everyone at Chris Collins Dance Studio sparkle! Miss Vickie is the smiling face of the studio who greets our students and parents as they enter the studio.
---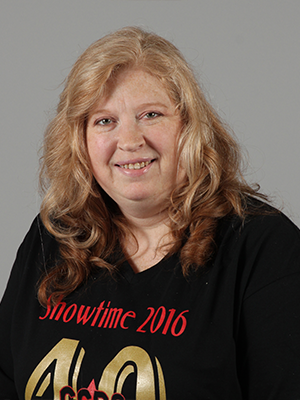 Michelle Burkes,
Office Staff
Miss Michelle danced at Chris Collins Dance Studio as a child. After raising two children, she came back to the area and danced as an adult student. She is very happy to be working customer service with our studio and be surrounded by those who share her love of dance. Whether assisting parents or fitting shoes for students, she is always ready to keep our students dancing!
---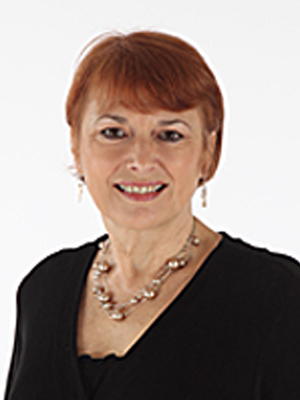 Marcia Herzog,
Office Staff
Miss Marcia danced for many years throughout her childhood at Bette Cannon Dance Studio. Since retiring from her job at General Services Administration (GSA), she has come back to her first passion – which is tap. She has danced with the Chris Collins Dance Studio award winning adult tap company for over five years as well as with other area tap groups. Having grown up in the dance world, she understands the needs of parents and students. Miss Marcia is there to help whether it is providing first-aid for a child or assisting a parent with their account.
---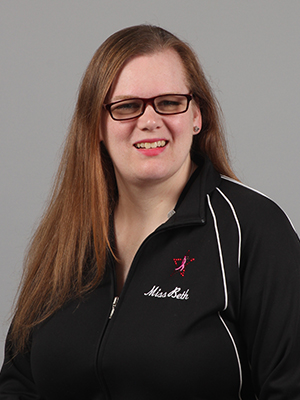 Beth Mingee Vasquez,
Office Staff
Miss Beth danced for several years at Chris Collins Dance Studio as a child. She has been with our office over ten years. Currently she spends the majority of her office time on bookkeeping and accounts. Miss Beth is always there for our students and parents for anything they may need during class hours.
---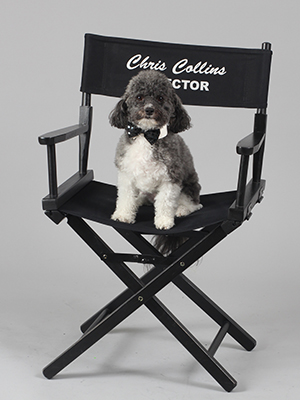 Shuffles Collins,
Studio Mascot
Shuffles is our official Chris Collins Dance Studio greeter and is named for the famous tap step "The Shuffle". He came to us as a puppy in August 2013 and it feels as though he has been here forever. Shuffles is affecitonate, cheerful, playful, and gentle. He loves and adores people, most especially children. Shuffles will certainly dance his way into your heart!
---
CONTACT US
Office Hours (different from class hours):
4:00 pm - 9:00 pm
4:00 pm - 9:00 pm
4:00 pm - 9:00 pm
4:00 pm - 9:00 pm
4:00 pm - 7:30 pm
9:00 am - 1:00 pm
CLOSED
---
Studio Location
5408 Eisenhower Avenue, Alexandria, VA 22304
703.370.7808 | chris@chriscollinsdance.com
Contact us and we'll get back to you within 24 hours.