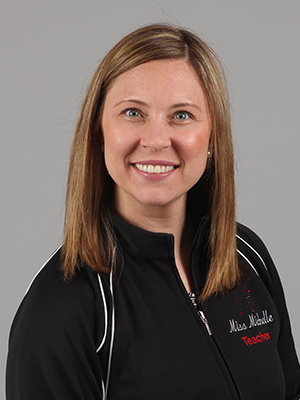 Michelle Timberlake,
Choreographer/Instructor
Michelle began dancing at age three and is trained in ballet, tap, jazz, lyrical, modern, and acro. She participated in many competitions locally and nationally receiving numerous accolades for her performances. Growing up she enjoyed the challenges of balancing her love of dance and gymnastics. She was named three times to the Washington Post All-Metropolitan Gymnastics Team. After graduating from Radford University, Michelle has taught dance and acro for several years and has choreographed routines that have taken top honors and many competitions.
She continues her dance education by attending local and national workshops and conventions. In addition to teaching, Michelle has served as a Northern VA gymnastics official and has performed and choreographed for the American Music Stage Productions. Michelle enjoys working with students of all ages, including the dancing dads! She is excited about continuing her passion for dance at Chris Collins Dance Studio.