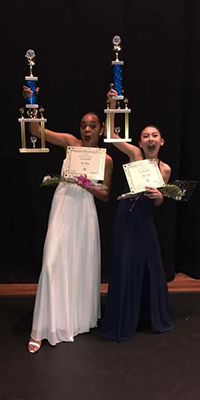 We are so proud of the CCDS dance company on their performances at Mid-Atlantic Dance Masters of America Chapter 17 Performing Arts Competition!
Chris Collins and his company co-directors Jennifer Meyer and Tiffany Hopper are members of Dance Master of America which has chapters throughout the country. DMA primarily promotes education through special workshop, but also hosts competitions. The Mid-Atlantic Dance Masters Chapter 17, held a yearly Title Pageant and Performing Arts Competition March 10-12, 2017 and we were excited to be a part of it.
The title pageant scores students through an interview process, auditions in each dance subject, as well as their chosen talent. In the Petite Miss pageant, our student Amina McKinney won the overall tap scholarship! Student Evie Muntu won the interview scholarship, a jazz scholarship, and was first runner-up to the overall Miss Petitie title!
In the Junior Miss category, student Charlotte Rizzi was a top ten finalist out of 28 girls.
In the Teen Miss category, student Piper Kelly placed 5th out of 33 contestants and Mia Muntu won a special award as the most talented non-finalist!
It was a great learning experience for all our students and we are extremely proud of each student who participated in all divisions.
At the Performing Arts competition, each of our groups debuted brand new routines and all of them gave outstanding performances!
Congratulations to our groups who were in the overall finals:
"Seussical" - First overall in age group 11-12
"Below My Feet" – 3rd Overall in age group 13-14
"500 Miles" – 4th Overall in age group 13-14
Special recognition to the following routines:
"So Hot" – the Fast Feet Award
"Cats" – "Broadway Bound Award
"Magic to Do" –Mystical, Magic Award
"Jungle Book" –Leaps & Lines Award
"I Got You" – Pep & Pizazz Award