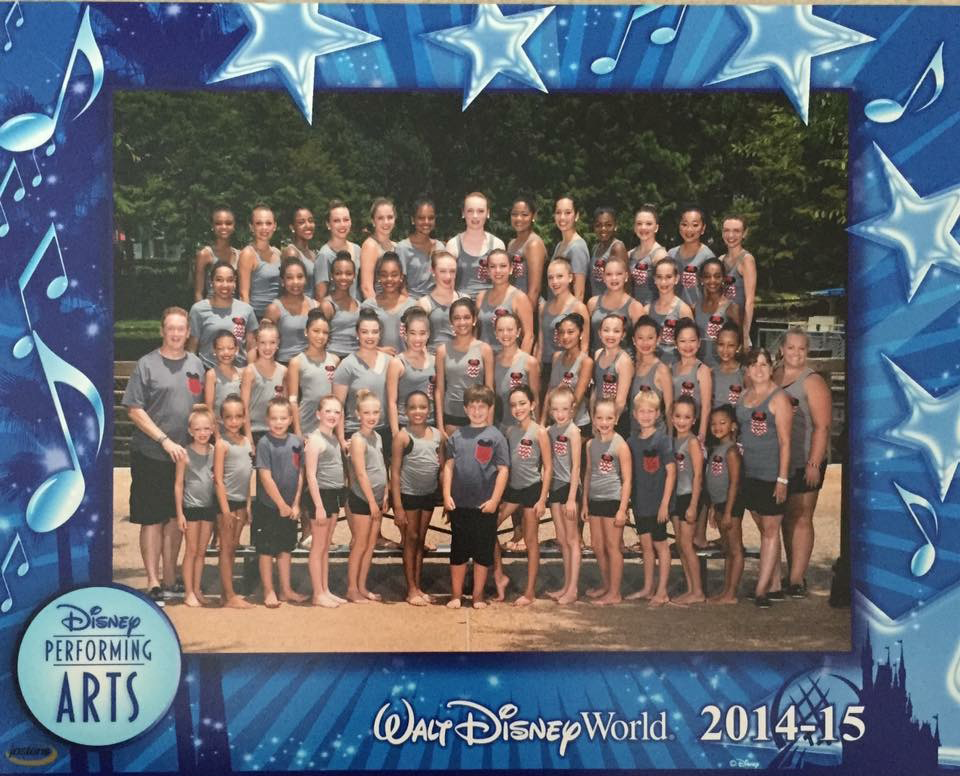 Chris Collins Dance Company Season Recap
After Showtime 2015, our Dance Company performed for the fifth time at Walt Disney World. Students took classes from the Disney performers, and even got to dance with Goofy! They performed for a large audience at downtown Disney under the beautiful Orlando Sun. After a short break at the end of August, our company kicked off a new season at an in-house intensive with some fantastic instructors. Our students got back in shape and ready to work hard for our 40th season. We welcomed many new company members, started getting back to work on technique, and learned exciting new choreography. In the fall, a large group of dancers and their families had a great time together seeing the Broadway show "Cinderella." Several of our older students attended the Dance Masters of America workshop in Williamsburg in November. Congratulations to Piper Kelly for winning a tap scholarship!
In December, The Dance Company Parent Association sponsored photos with Santa for the entire dance studio. They also rented out a movie theater for the company members and their families to see "The Peanuts Movie" together. After the movie, the company dancers partied. They had fun, food, games, lipsync battles and more, but, what do dancers like to do most at a party—dance!!
---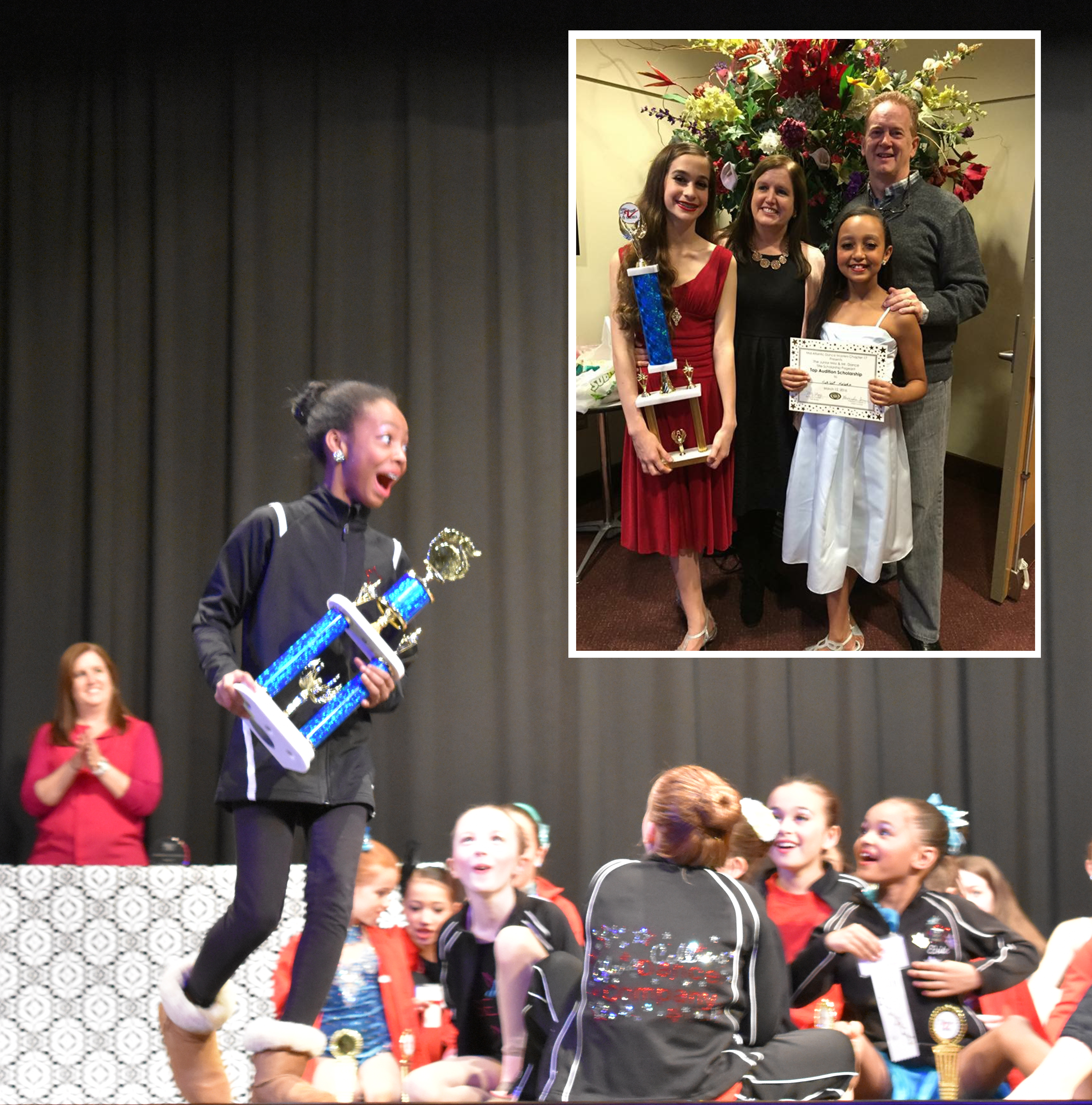 On a frigid cold weekend in January,
students took part in Dance Masters of America (DMA) workshops in Mary-land. There was a solo competition on the same weekend, where CCDS dancers debuted brand new routines. Some students performed solo for the first time ever. All of our performers were stunning! Blair Gilmore and Catherine Quidas were both the overall winners in their age divisions, and Kendal Wooley and Evie Muntu were runners-up to overall high score in their age divisions!
In March, we attended the DMA Mid-Atlantic Chapter 17 Title/PAC Weekend. Catherine Quidas was awarded the title of first runner-up to Junior Miss DMA and was also awarded the acro scholarship! Congratulations also go out to Mekleet Melaku, who won a tap scholarship, and to Kendal Wooley, who won a jazz scholarship! The next day, our group routines were showstoppers! The "Outstanding Costume Award" was presented to "That's Danc-ing," and all of the routines, presented for the first time in competition, did extremely well! Miss Meghan's contemporary routine "Walk the Line" was the overall top winner of the age division; "Chambermaid Swing" was the overall top production; and "Little Red Wagon" was runner-up to overall in its age division!
---
In April, CCDS showed their spirit off stage,
giving "Awesome Dancer" buttons to peers from many other studios. On Stage, they showed their true Star Power!! Tyler Urban was named Mr. Junior Beyond the Stars 2016! It is very difficult for a ballet piece to receive proper recognition at a dance competition; we are very proud that Miss Jennifer and the senior ballet routine "Immortals" was recognized for "Outstanding Technique"! Our solo performers and our groups were outstanding with many winning high honors in their division. We were also recognized with several special judges' awards.
As has been a tradition since 2005, we presented Teacher's Choice Awards following the competition. Although judges watch students on one particular day, the teachers see the students' progress from day to day. This spring, special recognition ribbons were presented to Hannah Arleth, Orfa Barrios, Samantha Farinas, Evie Galvan, Mia Muntu, Mimi Najafzaheh, Jasselene Paz, Charlotte Rizzi, and Tyler Urban.
---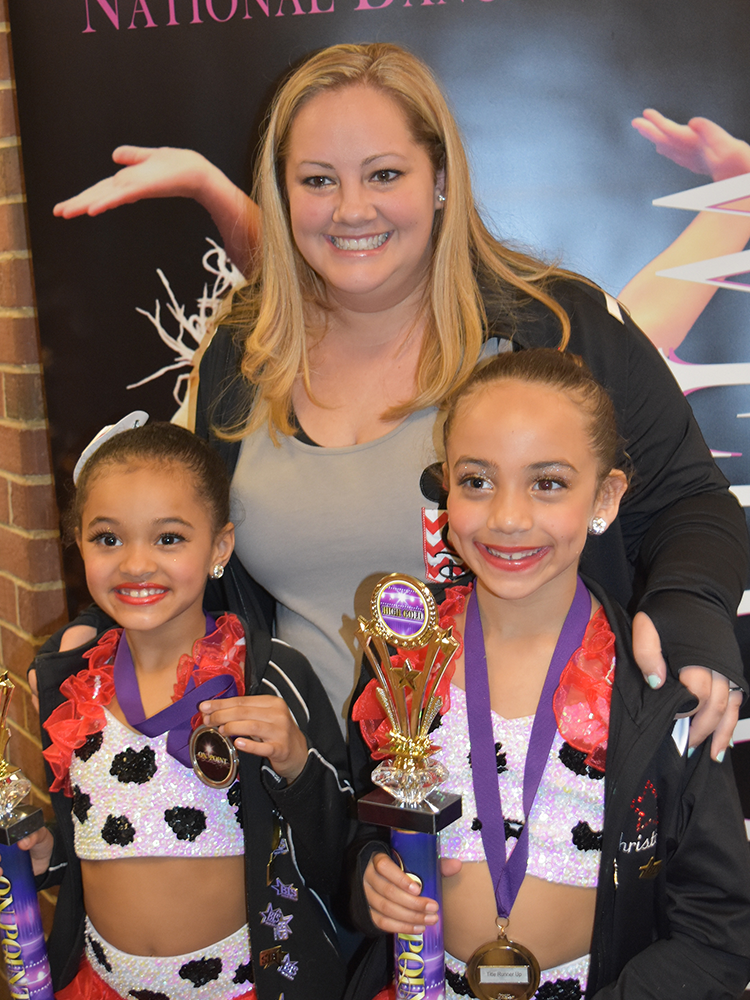 Our final regional competition was On Point in May.
From our little Twinkling Stars to our senior Superstars to our adult tap stars and Dancing Dads, it was a weekend to remember, with outstanding performances bringing home top awards! Katelyn Lunini was crowned Miss On Point, while Catherine Quidas was first runner-up to Jr. Miss On Point! In the Petite division, Evie Muntu and Amina McKinney were 1st and 2nd runners-up respectively!!! Miss Tiffany and the Rising Stars were presented the "Out-standing Entertainment" award for "We Want Billy." Our studio was recognized with nine different special judges' awards over the three day weekend and we had many soloists and groups in the top overalls by age and by subject! Many of our students were selected to be a part of the opening number for this competition at Nationals!!
Back at the studio, we gave applause and more recognition, with "Teacher's Choice Awards" going to El-Shadai Amdemariam, Erica Glover, Amina McKinney, Teyha Moss, Madison Olds, Andrea Vides, and Katie Woods.
---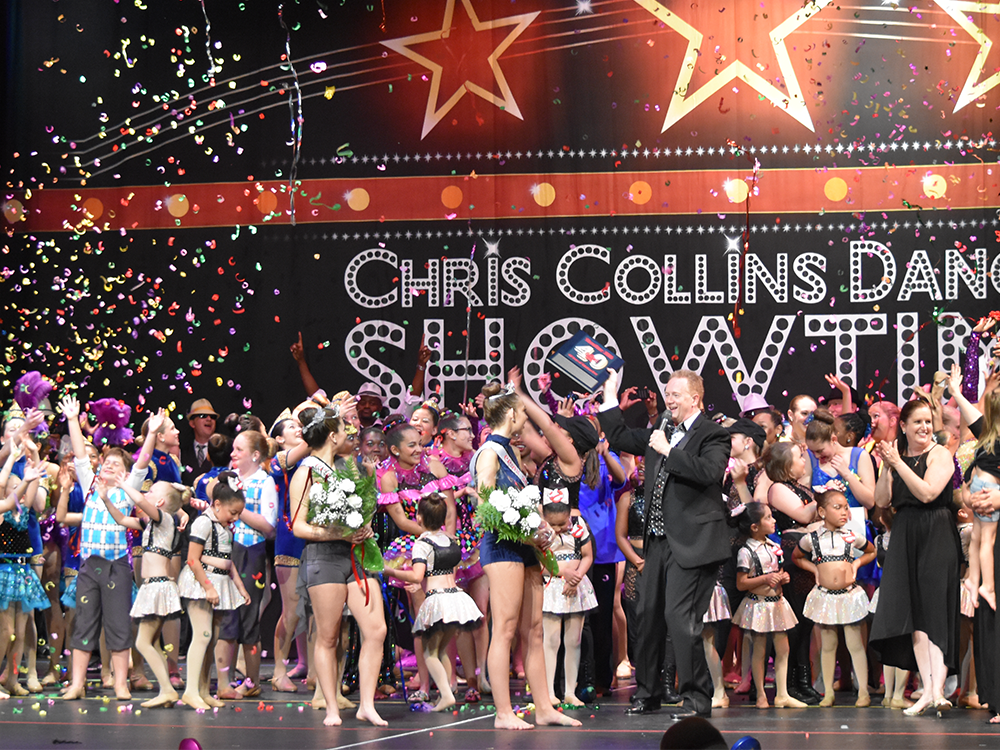 Bravo to our dance company members!
The teamwork of the students and parents makes the company a success. We are proud of our accomplishments on stage, and just as proud of our reputation off stage. It is a joy to watch the growth of our students through the years as they become confident performers. The young students look up to their "big sisters and brothers," and years from now all the performers will remember the fun and camaraderie they had more than whether a routine was silver, gold, or platinum.
We have a Facebook page for Chris Collins Dance Studio alumni. In a few years, many of the current company members will be on that page. We hope they have spectacular memories to share just as their predecessors have had. It has been another memorable year. Thanks for making our 40th year so wonderful. Go CCDS!! #ccdsspirit