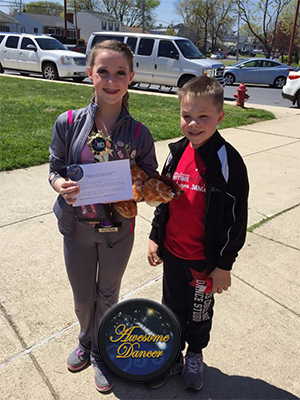 At a February 2005 dance competition in Richmond, Virginia,
attended by hundreds of children, 50 of the competitors received "Awesome Dancer" awards, recognizing their outstanding effort and performances during the two-day event.
While students from the Chris Collins Dance Studio of Alexandria, Virginia, performed well in the competition, none received the "Awesome Dancer" recognition. Still, every one of them was perfectly content with that outcome; in fact, they were thrilled. Why? Because they were the ones handing out the awards and proving to themselves that it truly is better to give than to receive.
It began as a collaborative effort between dancers and teachers at Chris Collins. While students and teachers at Chris Collins have a 40+ year history of earning high honors at dance competitions, up and down the east coast, the studio shuns the win-at-all-cost approach taken by some and prefers to live out its own motto: "We measure success in smiles."
To put those words into practice, prior to the P.D.T.A. (Professional Dance Teachers Association) "Stars of Tomorrow" competition, the studio created buttons emblazoned with a gold shooting star and the words "Awesome Dancer!" Each Chris Collins dancer was given a button along with the assignment to observe dancers from other studios at the competition and award one of them an "Awesome Dancer" button.
The gesture was designed to teach the dancers respect for their fellow dancers and to encourage camaraderie beyond studio boundaries. Many students awarded their buttons to dancers who exhibited outstanding talent on stage, while others sought out dancers who gave great effort, persevered through adversity, showed a lot of potential, or simply exhibited what they considered an award-worthy smile.
The simple beauty in "The Dance Button Project" is that the children were given no criteria upon which to make their award. They alone determined who received their button and why. And in 50 private, impromptu award ceremonies held in hallways and dressing rooms, they chose and spoke the words that told another dancer -- "a competitor" – what was great about them.
---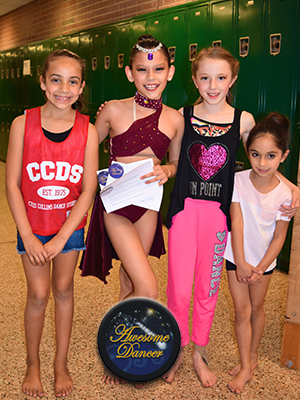 So how were the buttons received?
Some dancers were brought to tears by the gesture of kindness. Others commented that receiving this small recognition from a fellow dancer meant more to them than receiving a gold plaque from the competition judges. Students, parents and teachers sought out studio director Chris Collins, and commented that they'd never seen anything like this before.
One young button recipient said, "I would like to say thank you for the amazing button you gave me. I really needed it this weekend because I was really sick with the flu and I couldn't breathe when I was dancing. It made me feel better."
A teacher added, "I want to give you all a huge 'You are WONDERFUL!' button! I can't say enough about how fabulous I think this is."
"I just could not be more proud of our dancers, than I was at the Stars of Tomorrow Competition," said studio director Chris Collins. "On stage, I thought they were all great as always. But it was off stage that they really put on a show, and I know they brought smiles to the faces of many dancers from other studios when they presented the "Awesome Dancer" buttons. I was approached by several studio directors and parents telling me that their students really appreciated the buttons and what nice students I have."
Within days of the competition, word of "The Dance Button Project" had spread, and requests for buttons arrived from studios in Maryland, Tennessee and Massachusetts – each wanting their own students to become part of the effort.
The non-profit Dance Company Parent Association at Chris Collins (the parent group that actually produces the buttons) was glad to oblige, filling each order and dedicating 100% of the proceeds to their "Rising Star Scholarship Fund" – a tuition assistance program not for their own children, but for young non-competitive dancers who aren't even a part of the dance company. They call it their investment in the future of dance.
The Dance Button Project began in 2005, and Chris Collins Dance Studio has a whole new crop of competitive dancers that are thrilled to continue the tradition. To many of the dancers, they look forward to awarding their button, more than receiving recognition on stage for their own dances. In 20 years, the dancers will not remember how many platinum trophies and overall awards they received at any particular competition – but they will absolutely remember the way they made somebody feel, when they spread kindness to others.
So will that chain of kindness continue? Only time and the generous spirit of America's youth will determine that. But for the moment at least, everyone at the Chris Collins Dance Studio is comfortable in knowing that through "The Dance Button Project" they are changing the face of dance… one smile at a time.
---